BUY IN BY PLAYERS
While watching the Seawhaws vs 49ers game on game rewind, a couple things stuck out. One that is well known is that Lynch leaves a lot of people in his wake when he muscles his way down the field.
The below picture is the beginning of some carnage left on this jaunt by down the right sideline for 33 yards. He has used his strength to kick out of the tackle and his balance to continue to attack the 49ers secondary. In the picture, note that Kearse is positioning himself to be Lynch's next lead blocker.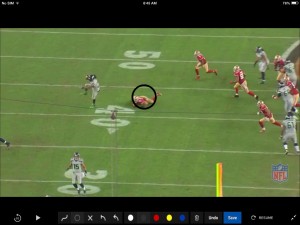 Kearse has gotten his block and Marshawn is down the sideline. A common practice of runners that get the ball to the below spot is to run out of bounds. Most of the time Lynch shows no fear. He stays in bounds and maximizes the run to the last degree. I admire how he confronts every opportunity like it may be his last. One other aspect of this team is they fight for each other.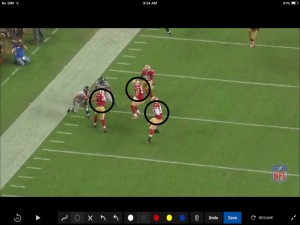 https://earnestbyner21.com/store/everybody-fumbles-autographed-book-copy/
The below picture shows again how the Seahawks' players go above and beyond for each other. They are not doing anything that shouldn't be done, but it's rare to really see it in action.
Russell has done one of his masterful spend moves to avoid a sack and scrambled around well enough to throw a dime to Moeaki. He gets a screen from the receiver in the yellow circle so he can continue down the sideline. Turbin is in full stride. Hustle Mode. Russell is in hot pursuit as well.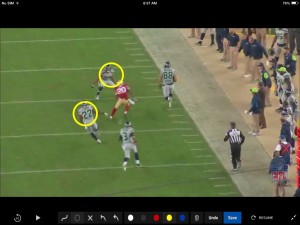 Moeaki has made his way down the sideline but wait…there is Turbin getting a block on #20. He has out hustled him to get to this spot. The other amazing part of the picture is in the bottom right. Russell is continuing to follow just in case. This type of action is not common. Most players do their job then either jog slightly towards the action or not pursue at all. These guys are in full stride and giving maximum effort for each other.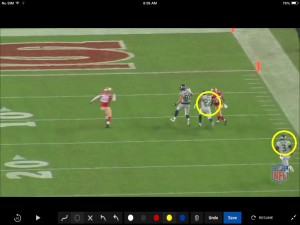 That type of play is, to me, two parts. They have bought into what their coaches have been preaching and they have a real care for each other.
Love it and enjoy as the Hawks continue to develop.
Coach EB
https://earnestbyner21.com/store/everybody-fumbles-autographed-book-copy/