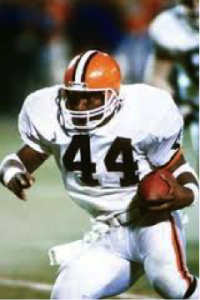 Earnest Byner grew up in Milledgeville, Georgia where today he is a hometown hero to many. He was raised by his grandmother, a teacher who gave him the extraordinary example of teaching. It is this gift that has been engrained in Byner to always go "above and beyond" to be more than a player and more than a coach to teach and help others. He believes his teachings are simple, God to man, and man to man with a genuine care for the guys. He artfully applies his grandmother's teachings to listen, hear, watch, and do, and has done this as a player and a coach with a lot of passion.

Playing Career

Byner attended East Carolina University (1980-1983) where he played fullback. He had an outstanding college career as he gained 2,049 yards on 378 carries. Byner was inducted into the East Carolina Hall of Fame in 1998.
Byner was drafted by the Cleveland Browns in the tenth round of the 1984 NFL Draft. He played for the Browns (1984–1988; 1994–1995), Washington Redskins (1989–1993) and the Baltimore Ravens (1996–1997) throughout his career. He finished his 14-year NFL career ranked 16th on the NFL's all-time rushing list with 8,261 yards on 2,095 carries, with 56 touchdowns. He also caught 512 passes for 4,605 yards and 15 touchdowns, returned 33 kickoffs for 576 yards, and scored a touchdown on a recovered fumble, totaling 13,442 all-purpose yards and 72 career scores. Byner left the NFL finishing as one of the top 50 all-time leaders in rushing attempts, rushing touchdowns, and total yards.
Byner is a two-time Pro-Bowler (1990 & 1991) and two-time Super Bowl Champion (Redskins 1991 and Ravens 2000). During his playing career, Byner earned a number of honors, including being named one of the 70 all-time greatest Redskins in 2002, induction into the Ravens Ring of Honor, the Ed Block Courage Award in 1986, the 1996 NFL Extra Effort Award, the NFLPA Unsung Hero Award in 1997 and the Ravens Man of the Year Award in 1997.
After retiring as a player, Byner was given the opportunity to use his knowledge and love for the game to become the Baltimore Ravens Director of Player Development, also aiding the personnel and coaching staff. He helped constitute the roster that won Super Bowl XXXV!
Coaching Career
In January 2004, Coach Byner was hired to be the Running Backs Coach under Joe Gibbs
(2004-2007). Byner's teachings and coaching techniques transferred to his players. All four years, a Redskin running back registered at least 1,100 rushing yards. Pro Bowl running back Clinton Portis tallied 4,616 rushing yards and 34 touchdowns during Byner's tenure with the team. He also was able to groom Ladell Betts, who filled in for an injured Portis in 2006 and gained 770 yards in the final six games of the season, the most ever by a Redskin over a six-game span in a single season. Byner coached three Pro-Bowlers during his stint in Washington: Clinton Portis, Mike Sellers, Rock Cartwright.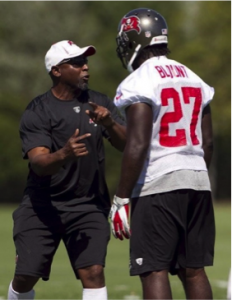 On March 10, 2008, Byner was officially announced as the Running Back Coach for the Tennessee Titans. Here he mentored Pro-Bowl Running Back Chris Johnson to one of the finest seasons ever accomplished in the history of the NFL. Johnson finished with an astronomical 2,006 yards on 358 attempts and 16 total TD's. Byner coached the duo of Rookie Pro-Bowler Chris Johnson and LenDale White. The two combined for 2,001 rushing yards and 24 total TD's which made a season total that ranked second in franchise history.
He was named Jaguars running backs coach on February 4, 2010. Byner's leadership guided Jacksonville Jaguars Pro-Bowl Running Back Maurice Jones-Drew to two of his best statistical seasons as a Pro. In Byner's two-year span in Jacksonville, Jones-Drew amassed 2,930 rush yards on 642 carries and 18 total TD's. Byner also coached Greg Jones, who is consistently regarded as one of the best Fullbacks
Byner was named Buccaneers running backs coach on February 19, 2012 where he was Instrumental in guiding Pro-Bowl Running Back Doug Martin to one of the best seasons ever performed by a rookie. Martin finished with 1,454 rushing yards on 319 attempts and 11 rushing TD's. Martin also finished with 49 receptions for 472 receiving yards and 1 receiving touchdown.
Earnest Byner has shown to be a class act as a coach and a player throughout his lifetime. He will go down in history as one of the best running backs and coaches in the NFL. One thing for sure, he always came prepared and with all heart. But, there is no humanistic statistic to tell about lives he has touched through his passion for the game, and his teaching gift to help people. His grandmother would be proud!